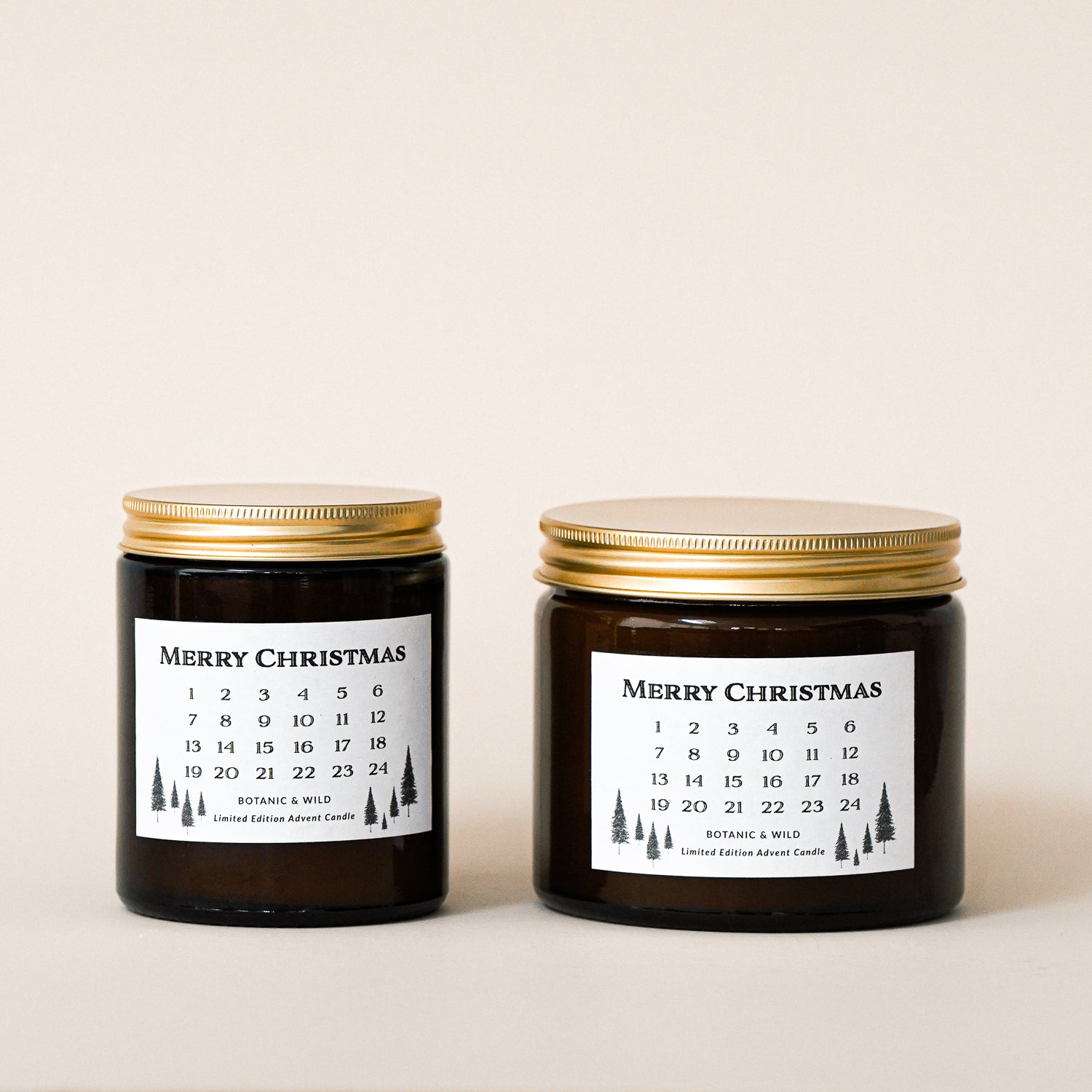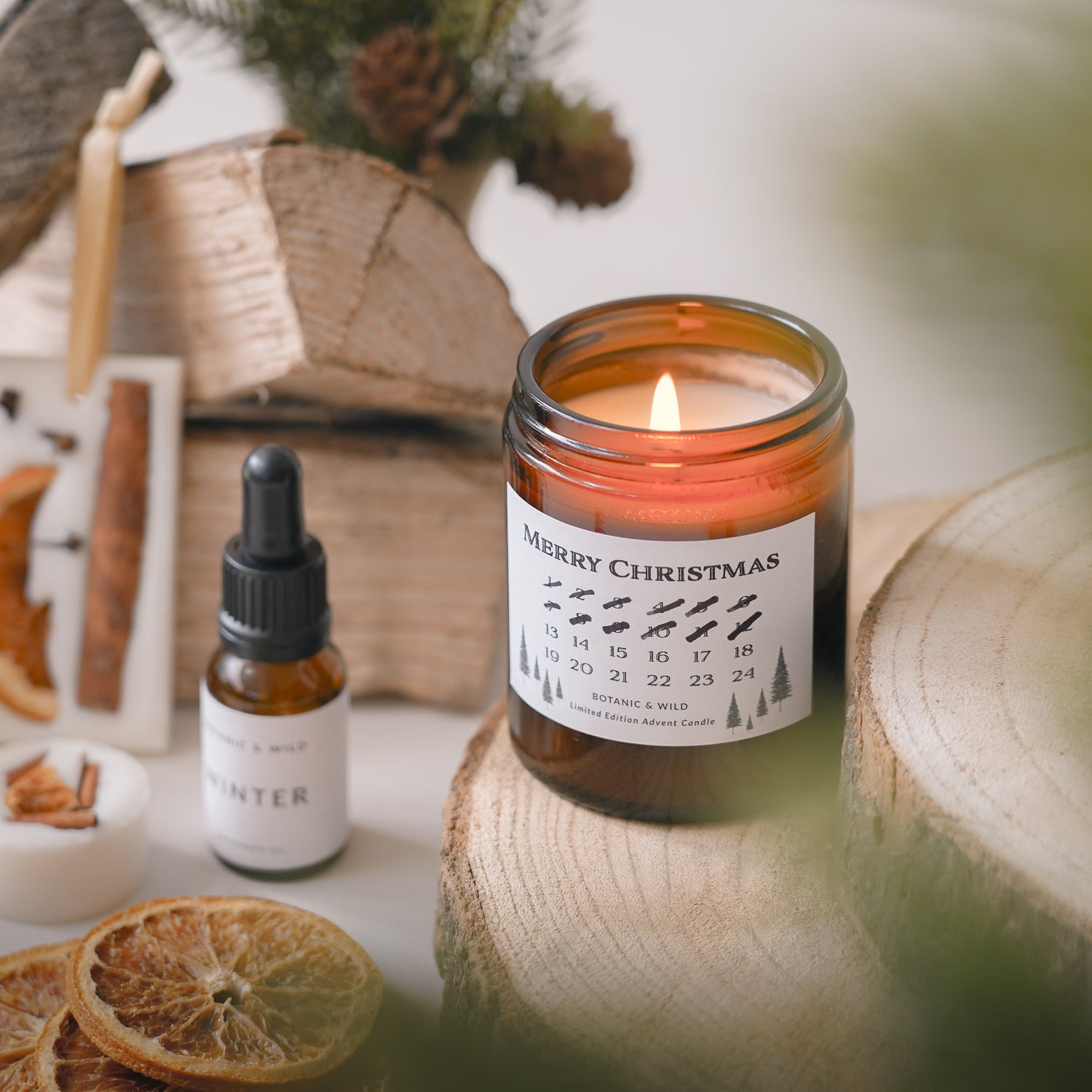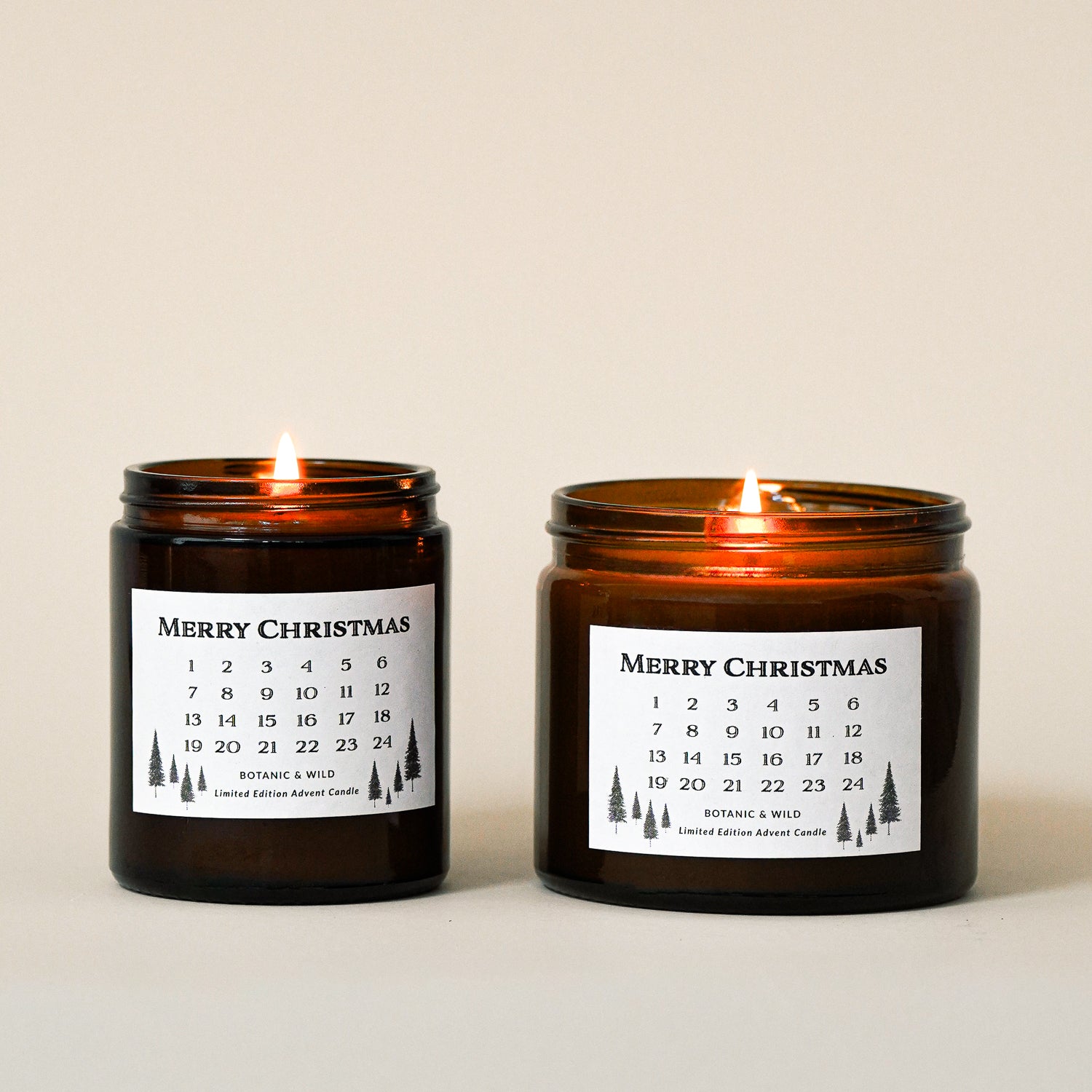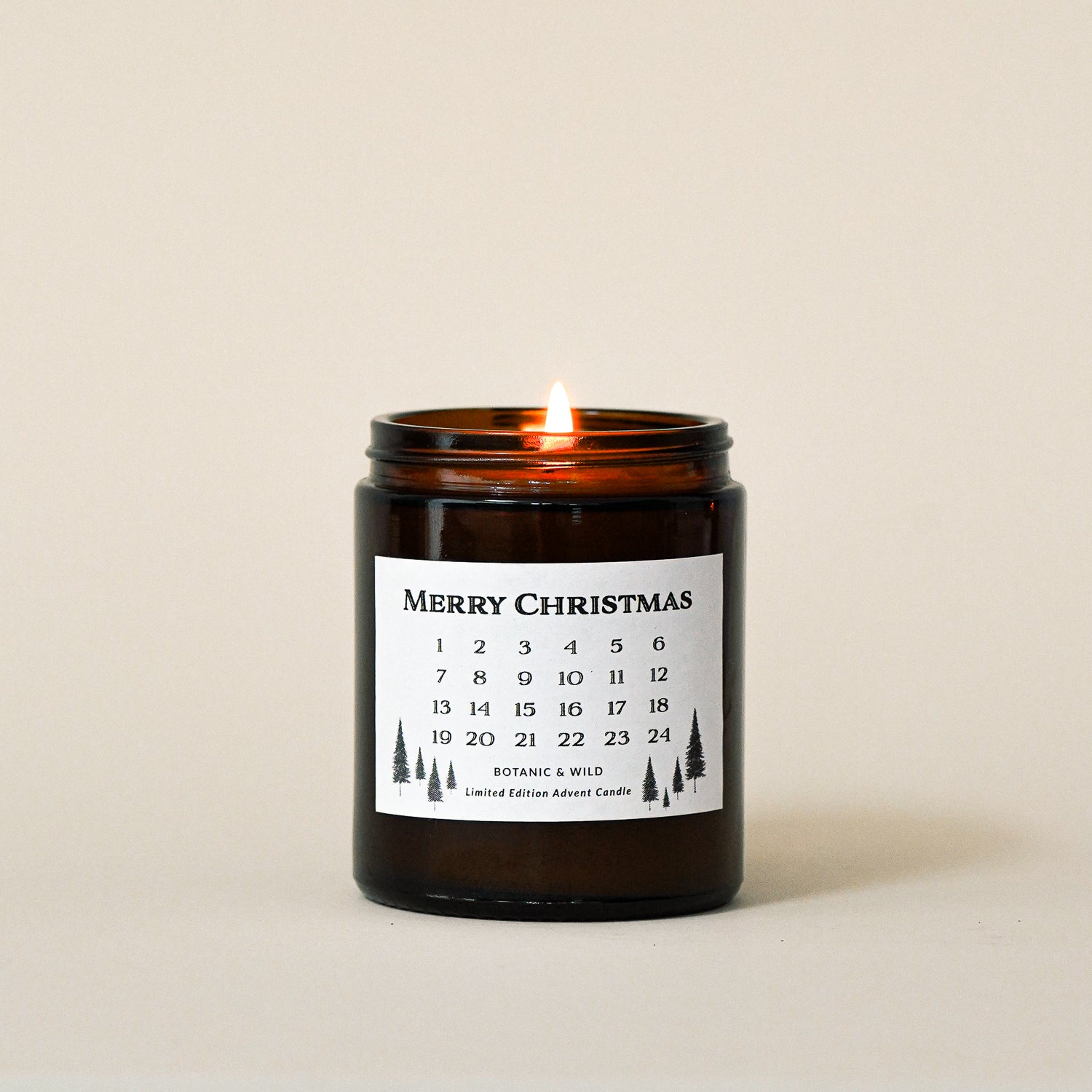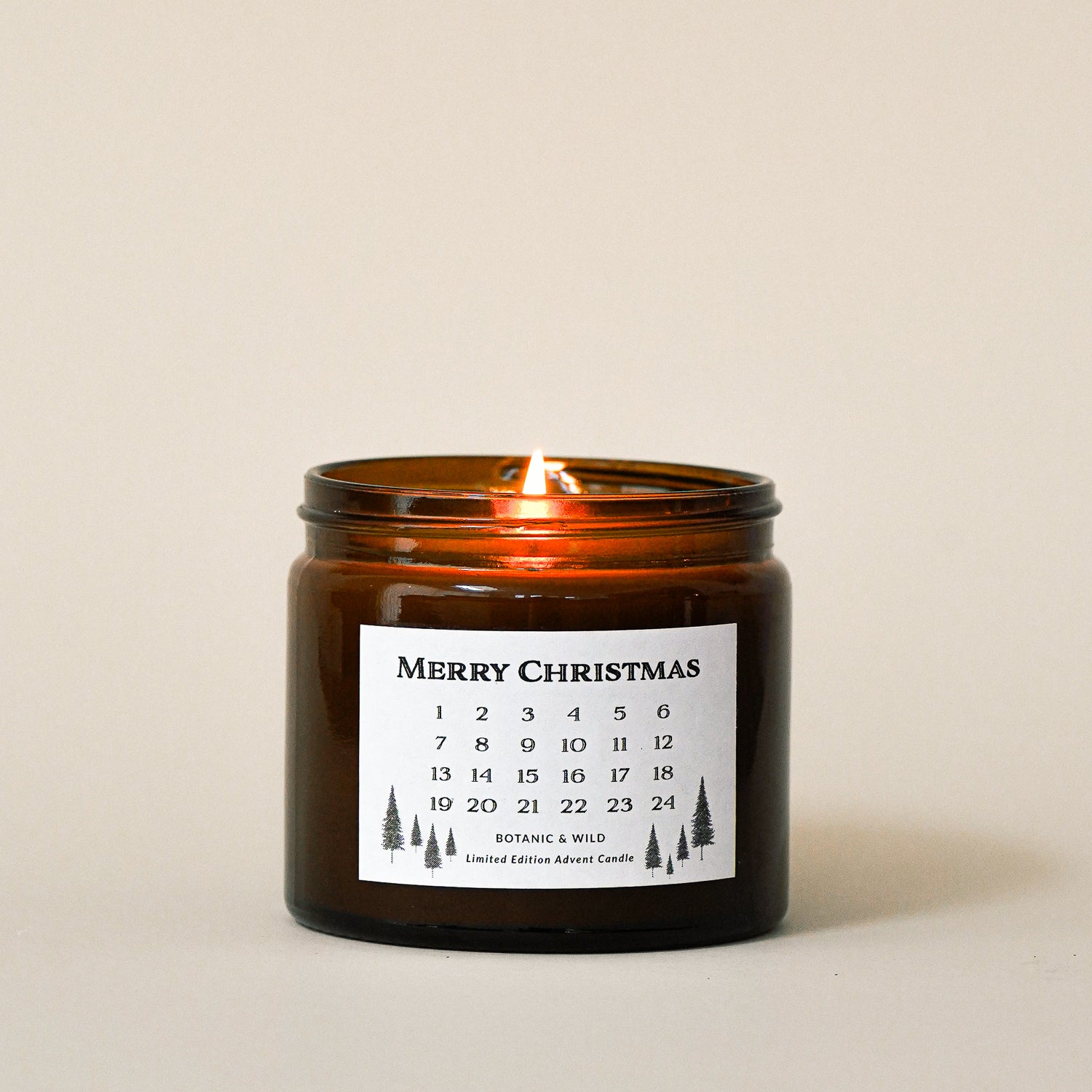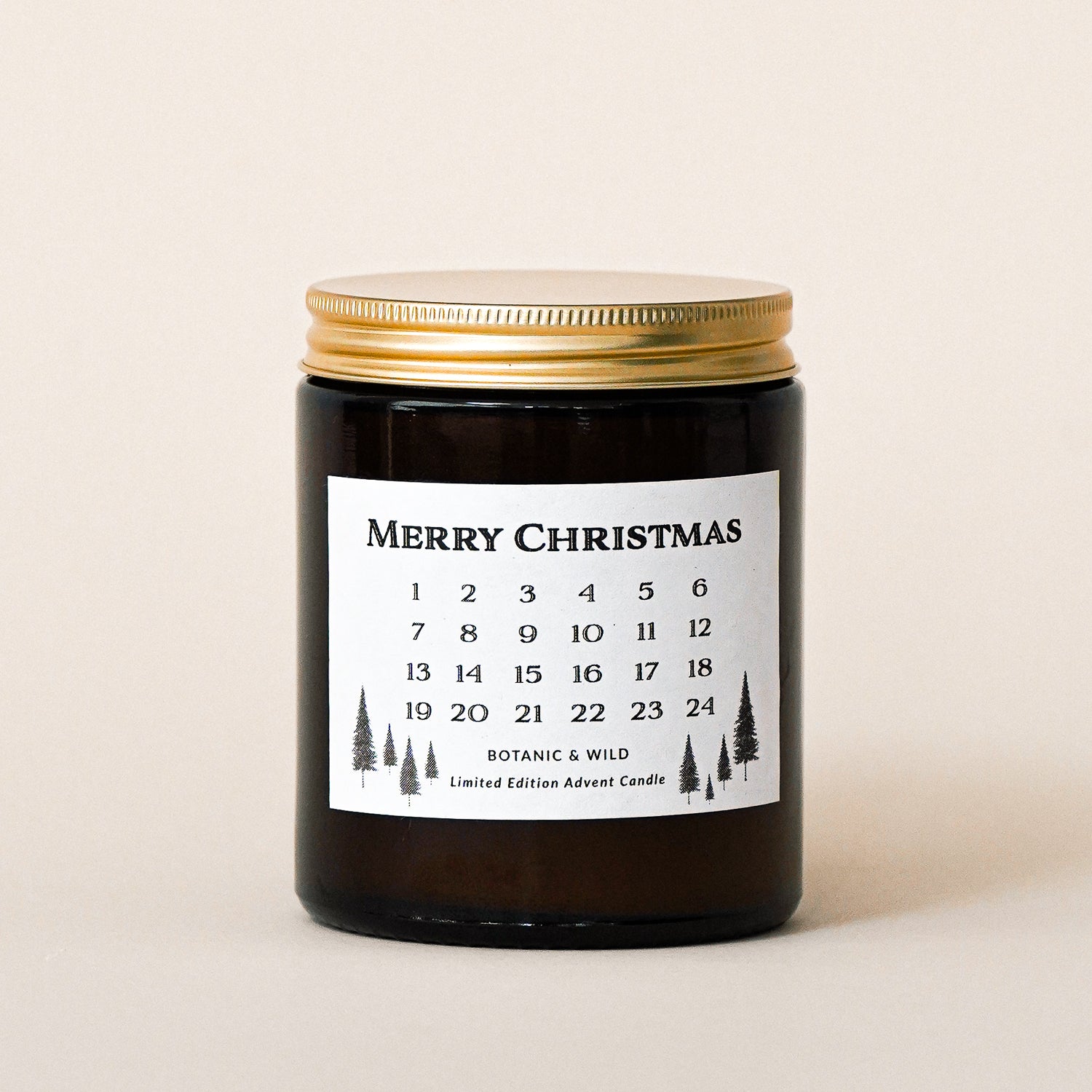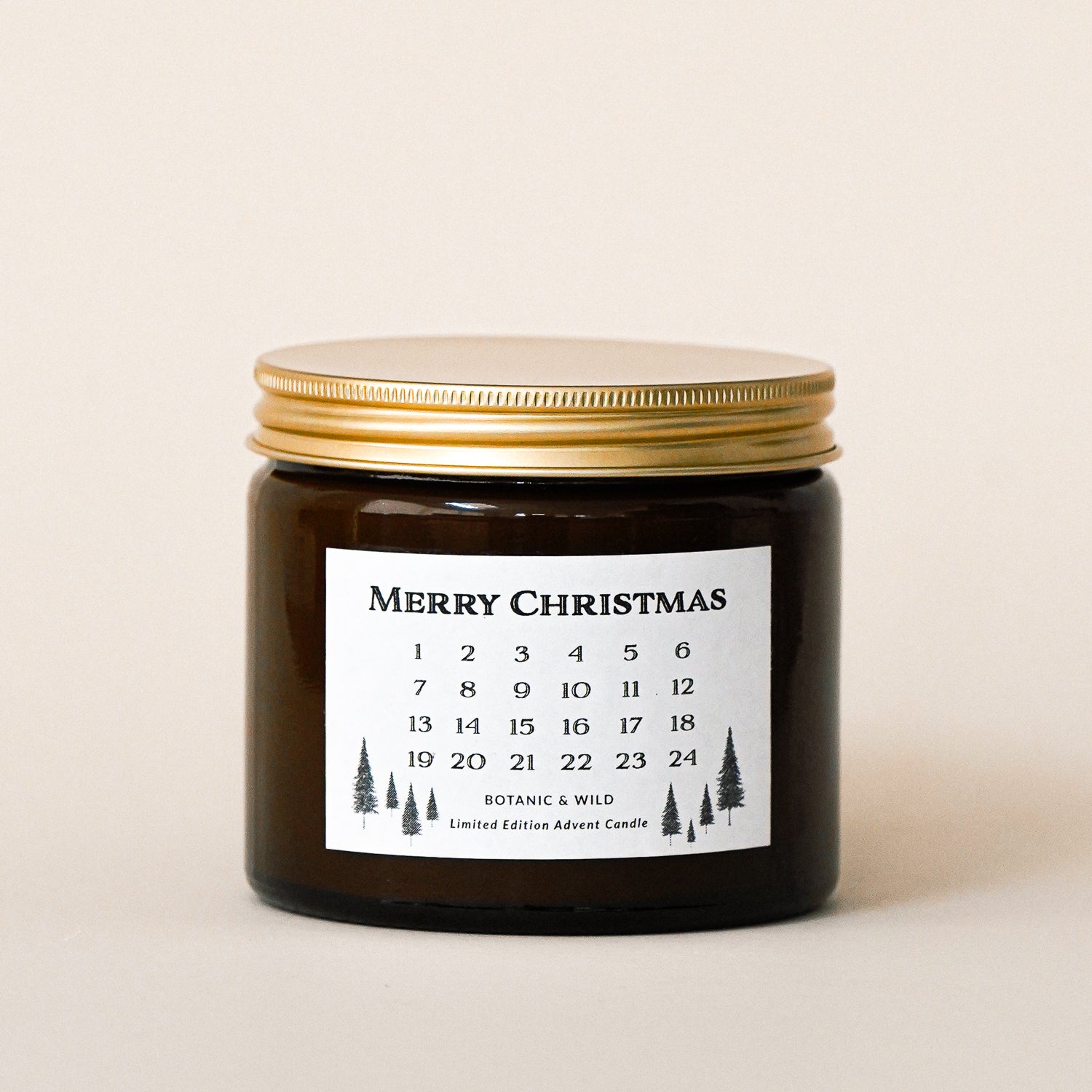 FESTIVE ADVENT Candle (Limited Edition)
Sale price

£14.95
Regular price
(/)
---
Sold out
Don't miss it, only 2 left
Sold out
Sold out
For the Christmas Lovers, our Festive Advent Candle makes a great gift yourself or that someone in your life who just can't get enough of the festive season. Count down to Christmas Day by lighting your Festive Advent Candle each night in the month of December and marking off the date. 

Available in either of our limited edition festive scent blends, Winter and Frankincense & Myrrh and both medium or large sizes. Read more about the scents below.


FRANKINCENSE & MYRRH

AROMA: WOODY + FRESH 

"An oriental rich and luxurious fragrance, opening with fresh notes of citrus peels, eucalyptus, juniper and lavender leading to a spicy heart of cinnamon and clove, rounded by orris with oriental base notes of warm amber, sandalwood, cedar wood, patchouli, musk and vanilla."

NOTES

Top: Citrus Peel, Eucalyptus, Juniper 
Heart: Lavender, Spices, Orris
Base: Sandalwood, Patchouli, Musk, Vanilla

WHY WE LOVE IT

It's a super luxurious fragrance while being welcoming and warming perfect to be enjoyed in all living spaces especially when having guests round.

WINTER 

AROMA: WARM + SPICY 


"The inviting aroma of stepping in from the cold, this fragrance will instantly wrap your senses with its magical warm and spicy scent. Curl up on the sofa as notes of cinnamon and clove add warmth to your room, while a dash fresh zesty orange completes the festive feel."


NOTES

Top: Warming Spices
Heart: Cinnamon, Clove
Base: Fresh Orange

WHY WE LOVE IT

This is the scent of Christmas, instantly reminiscent of our favourite festive memories at home.
INSPIRATION 

Our Amber Candles are influenced by nature, botanics and the outdoors. Hand-poured in small batches we've carefully curated each scent using high-quality fragrance that brings the beauty of nature into your space. When your candle is finished, explore our guide for tips on re-purposing the vessel. 

MADE WITH 

A Blend of Essential Oils and Premium Fragrance Oils or 

Premium Fragrance Oils

Natural Soy Wax
Natural Cotton Wick
Recyclable Amber Glass Vessel

SIZES

Small: 120g for approx. 20 hour burn

Medium: 180g for approx. 30-35 hour burn

Large: 250g for approx. 45-50 hour burn
Botanical Garden:

Contains Helional, Amyl cinnamic aldehyde, Benzyl salicylate, Linalool. May produce an allergic reaction.

Fireside:

Contains Methyl atrarate, Tetrahydrolinalool, d-Limonene.

Frankincense & Myrrh:

Contain Alpha-Isomethyl, Ionone, Eugenol, linalool, Linalyl Acetate, Methylcinnamic Aldehyde, Tetrahydrolinalool, Tetramethyl Acetyloctahydronaphthalenes. May produce an allergic reaction.

Fresh Fig:

Contains Cyclamal, Iso E Super, Coumarin crystals. May produce an allergic reaction.

Freshwater Bay:

Contains Benzyl Salicylate, Heliotropine, Hydroxycitronellal, Limonene Linalool, Methylenedioxyphenyl, Methylpropanal, Tetramethyl Acetyloctahydronaphthalenes. May produce an allergic reaction.

Gardenia:

Contains Geranyl acetate, Iso E Super, Hydroxy, Amyl cinnamic aldehyde. May produce an allergic reaction. 

Morning Mist:

Contains Hexyl cinnamal, Hexyl salicylate, [3R-(3a,3ab,6ab,7b,8aa)] -octahydro-6- methoxy-3,6,8,8-tetramethyl-1H-3a,7-methanoazulene. May produce an allergic reaction.

Pumpkin Patch:

Contains Courmarin, Dihydroeugenol, Eugenol, Geranyl Acetate, Heliotropine, Methylcinnamic Aldehde. May produce an allergic reaction.

Vine Tomato:

Contains Estragole (Methyl chavicol), d-Limonene, Benzyl salicylate. May produce an allergic reaction. 

White Lavender:

Contains Eucalyptol, Limonene, Linalool, Linalyl Acetate. May produce an allergic reaction.

Wild Mint:

Contains Iso E-Super, Eucalyptol, d-Limonene, l-Carvone. May produce an allergic reaction. 

Winter:

Contains 4-(1-Methylethyl)-Cyclohexanemethanol, Beta-Caryophyllene, Cinnamyl Alcohol, Citral, Hexyl Cinnamal, Linalyl Acetate. May produce an allergic reaction.
Warning:

Never leave a burning candle unattended. Burn candles out of reach of children and pets. Always leave 10cm between burning candles. Do not burn candle on or near anything that can catch fire. Only burn this candle on a level heat resistant surface. Never burn this candle for more than 4 hours at a time. Do not allow the flame to touch the side of the vessel. On the first burn, alway burn for 4 hours to ensure an even melt pool. Ensure the wick is upright, above the wax and central before the wax sets. Always trim the wick to 5mm before lighting avoid smoking and damage to the vessel. Vessel may become hot during use. Extinguish when 5mm of wax remains and do not relight.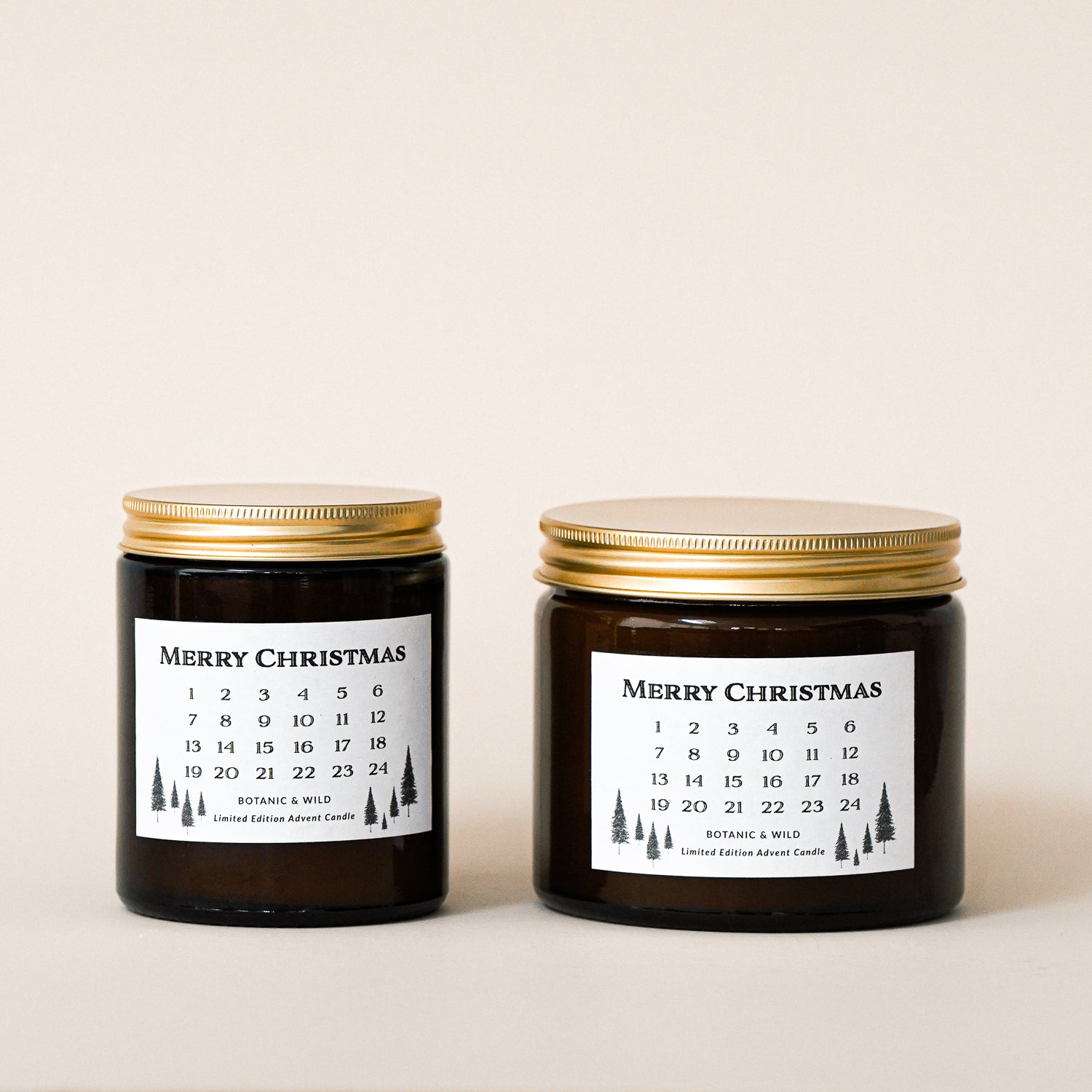 FESTIVE ADVENT Candle (Limited Edition)
Sale price

£14.95
Regular price
Choose options